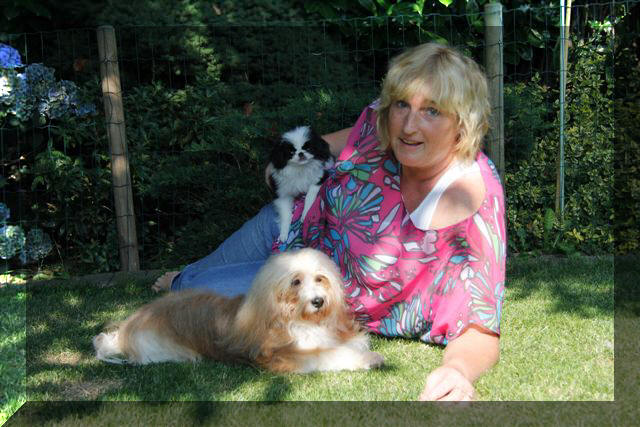 Who am I?
Welcome to our kennel "From the Olympia Girls".
Through this site I would like to introduce you to my passion for breeding the wonderful Havanese breed.
My name is Petra van den Beuken - van der Burgt and I'm married with Gerard.
We live in the Olympia Park of Roggel, municipality Leudal, the name that is also reflected in our kennel name.
The passion for breeding this breed is in my blood. In 1989 the first Cavalier King Charles came into our lives. In 1998 I started breeding dogs. In that same year, the first Cavalier, From the Olympia Girls litter was born.
In 2002 the Japanese Spaniel came into our lives.
During the ring training in Venray in 2003 I came in contact with the Havanese breed. I soon discovered their wonderful character: eager to learn and smart, roguish, affectionate and very playful.
Over the years, I have attended many symposiums and courses in order to build up the necessary expertise to specialise in breeding and to broaden my knowledge. Thus I have obtained the relevant diplomas in the courses Kynological Knowledge and the Dog and Cat Decree.
In 2004 the first Havanese came into our lives: "Sen˘rita Lolita Los Guapas".
Since then, they have been an integral part of our family and life.

My breeding philosophy
By breeding more with different females and males I get more insight in the breed and the lines. I find this important to ensure that the breed can remain healthy. The consequence is that I also have to rehome my dogs on a regular basis, in order not to shortchange them in a too large group. There are many people who want an older dog instead of a puppy and I can serve them. A win-win situation for owner and dog. After all, not everyone has the opportunity to take in a puppy and also likes to have a dog with good behaviour.
That is why I have chosen for 3 to 4 litters a year and on average 3 litters with the same bitch, to keep a good eye on health and inheritance. That is why from almost every litter a puppy stays here.
In this way I strive to breed typical, characterful and healthy Havanese. Our Havanese are healthy and checked.